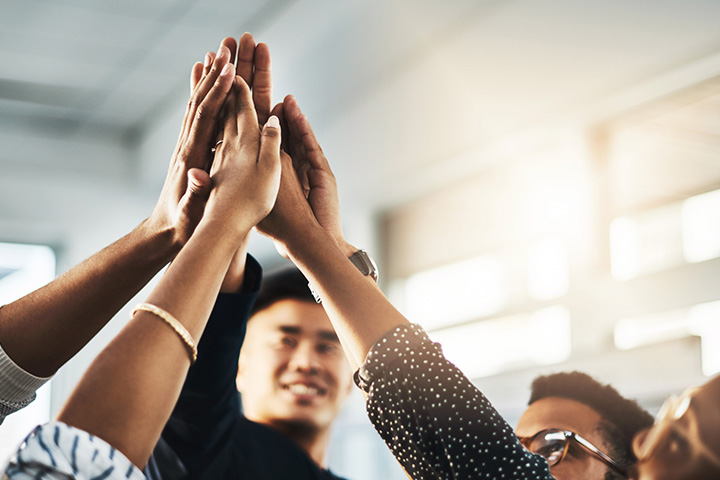 How One Brokerage is Jaunt-ing its Way to Success
Last year we launched a new initiative called Jaunt Wellness – an online platform designed to support the health and wellbeing of CAA Insurance brokers. The program allows participants to set goals and challenge themselves while connecting with fellow colleagues and brokers in the spirit of community.
Since its launch, we have seen a remarkable number of brokers sign up. They've all enjoyed monthly challenges, with the chance to win great prizes. We've even seen some brokers engage with the platform on the social feed and have enjoyed watching this community come to life on Jaunt… but one brokerage has really stood out. With over half of their brokers registered in the program, appearing regularly on the leaderboard, and even creating their own challenges, Petley-Hare Insurance Brokers in Oshawa, Ontario, is taking their Jaunt experience to the next level. So, I had to find out what they like most about the program, and I recently had the pleasure of chatting with their Leader of People and Culture, Molly Coughlin, CHRL.
Investing in the Wellness of the Team
"Petley-Hare has the reputation of being a supportive culture and has always committed to supporting the health and well-being of our team members," explains Molly. "We work in an industry where we are constantly helping others. Our employees are the heartbeat of our company and are dedicated to supporting our clients each day. So, they deserve to be supported, too. They fill our clients' cups, so we make sure we fill theirs."
The brokerage's wellness initiatives didn't start with the launch of Jaunt. They have created a culture of wellness from the top down with monthly programs and themes designed to educate, support, or invoke plain old fun. "In December, we held an Ugly Christmas Sweater competition, for example," muses Molly. "And January's theme was 'Financial Health' where we offered resources to assist people with budgeting, financial education, and so on. We have 'Culture Ambassadors' who contribute to our monthly themes and foster a fun and competitive environment to keep people engaged. We humanize our virtual workplace by sharing stories and successes of others."
The brokerage had also been engaging employees through their own challenges hosted on Microsoft Teams. But Molly describes the Jaunt program as a "shiny new object" that is helping to keep up the momentum and see people succeed in their wellness goals.
Jaunt-ing at Work
"When Jaunt Wellness was announced last Fall, we were super excited to get everyone on board," Molly explains. "Our Marketing Manager, Kevin Wallace, created a fun announcement about the program, inviting people to register and play around within the platform to see how it worked. Then, in December, we created our own Jaunt challenge around exploring the application. We invited everyone to load it to their work computers, explore its features and provide their feedback." When asked what they heard, Molly said that everyone really liked that they could connect the app to their smartwatch. They also said they like the videos, saying they are a great 'pick-me-up' because they're a moment to look away and redirect your energy before getting back to work. "Things like this really fill your cup, and that's our goal – making sure everyone's cup is filled with energy, support, and gratitude. Jaunt helps us accomplish this in so many ways," says Molly.
Building on Wellness
The entire world has felt the weight of the pandemic, and sometimes it takes a significant life event to take essential action. "When we were sent home, the entire leadership team made the wellbeing of their employees their number one priority," explains Molly. "But we recognize that life can be tough after 5:00 pm, and we can't always be there to help. We also recognize that what happens to our children, spouses, family, and pets affects us too. So, we are excited to have just launched a new support system for employees and their families. It includes 24/7 access to psychotherapy, counselling, financial help, finding childcare, medical help, and more. And we feel that Jaunt is the perfect complement to this new benefit; people use the app to do research, refer to its wellness resources and track everything that's going on in their lives. Then they can take this information to our in-house program to continue the journey. It's a truly holistic plan."
Jaunt Can 'Fill Your Cup'
Petley-Hare prioritizes the health, education, and growth of everyone because that's what helps people succeed. And Jaunt is proving a great tool to support this commitment, particularly thanks to the monthly challenges. "Challenges tantalize what brokers like – competition!" quips Molly. "It's great because it has something for everyone. Not everyone likes to walk or meditate, but no matter the activity a person does, it can be tracked, and points are awarded. They always make sure to track activities in Jaunt so they can compete!"
When asked how Jaunt will evolve, Molly says they're only getting started. She also does not see the momentum at Petley-Hare slowing down. "The number one thing is making it fun. The challenges make it fun and inspire people to do the work. And when they do the work, they fill their cups," concludes Molly.
Want to see your brokerage succeed like Petley-Hare? Download and register for Jaunt Wellness today! It's open to all CAA Insurance brokers and easy to start. Please refer to this job aid for assistance.