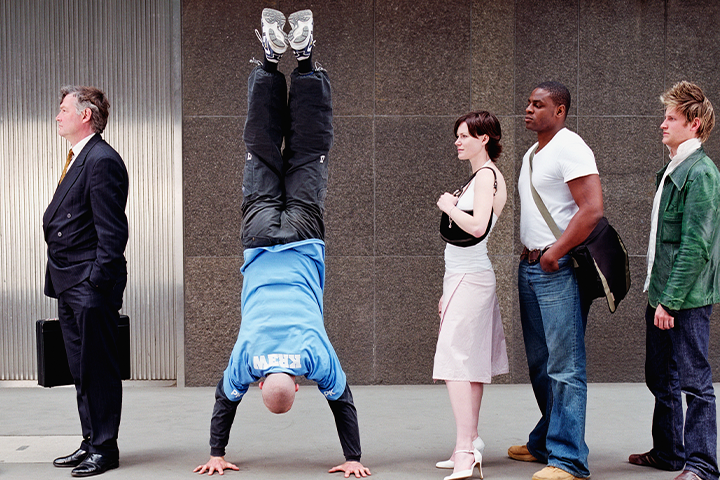 Stories make you stand out
Sharing the heart and soul of your business in marketing
You're 22 times more likely to remember a fact when it's wrapped in a story, according to cognitive psychologist Jerome Bruner. (Rest assured, you won't remember that statistic when you need it. But if there were a great story around it, you would.)
You can use storytelling to make sure you and your business are more memorable, too.
You may not think of yourself as a storyteller, but you do it every day
Maybe you're telling your co-workers about an old friend you met while getting coffee on the way to work. You could be telling your family how your day was or describing your new puppy to a friend.
When you're "yourself", you're a storyteller.
Storytelling is more important than ever before
Beyond being memorable, stories make a quick impression. Millennials have a five to six second attention span, according to comScore. So you need to make a quick impression these days. Stories also trigger our emotions. If 95% of decisions are sub-conscious, an emotional connection and quick impression are worth their weight in gold.
You're competing against stories all day long
We spend our days sharing our own stories – a friend's new baby or what's coming up in the garden, maybe a new recipe you tried. So if you want to capture attention, you need to be telling stories, too.
Stories bring out the heart and soul of your business
While it's nice to be able to say you've helped over 1,000 customers, stories with a personal (but not intrusive) side, are the most powerful.
If you can tell certain customer stories (respecting privacy, of course), you're going to make a better connection with customers and consumers. Check out our recent article for ways to make testimonials and case studies work for you.
A story really can bring you together
When you tell a story and others listen to it, the patterns in your brain align. You're truly in-sync with another person while you're telling them your story. It can actually form a bond, even if you don't know that person well.
When you tell a story, it doesn't come across as self-serving
Maybe you want to tell people about your brokerage sponsorships. But that could come across as bragging about your generosity. Tuck it into a story, and the problem's solved. Compare these two approaches:
"We're a proud gold sponsor of this year's fall fair."
Versus:
"Are you going to the fall fair? We're sponsoring again this year. It was my favourite part of autumn when I was a kid, because…"
You've made it personal, eliminated any bragging, and given a great impression of you and your business. You might even hear a story in return and form a great connection with that person.
The basic do's and don'ts of storytelling:
DO make it short, but capture the details that make it different. For example, the thing you most love about the fall fair.
DO make it specific. A compelling story is about one situation or one individual. For example, the one person you helped, rather than the 1,000 people your brokerage helps in a year. And you don't have to name the person; you can keep it anonymous.
DO make sure it reflects your company's brand. Make sure it's professional, caring and appropriate. For example, how you suddenly thought of this new option for your customer this weekend, not the party you were at on Saturday night.
DON'T share somebody else's story without permission, and do protect anonymity when you're sharing it. It's lovely to include your colleague's new baby in your newsletter, if you ask first.
If your stories are all about your products and services, that's not storytelling. It's a brochure. Give yourself permission to make the story bigger. – Jay Baer, Marketing and Customer Service Expert.
Get started today: You can use your stories at your next business networking event, on your next customer call, or when you run into a prospect at the coffee shop. You're doing those things anyway, just do it some more.
Be willing to tell your stories and you'll make more and better connections in your marketing.
Related articles:
Customer stories are your super power
Want your business to really stand out? Tell your story!
Aligning personal and corporate brands



There's a growing library of marketing articles just for Brokers, from CAA Insurance.
Follow us on Twitter and LinkedIn so you don't miss any great upcoming topics.