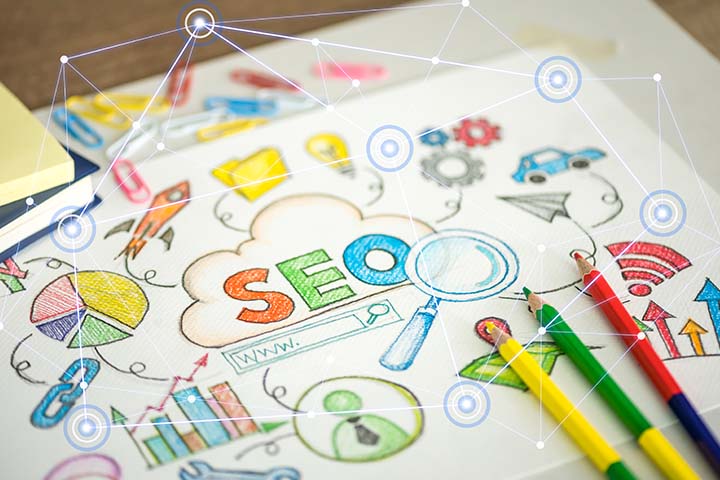 So many search results for 'insurance'...
Let's do an experiment: Type 'Insurance' in Google. Over 560 million results.
Now try: 'Car Insurance'. Over 2 billion results.
How about: 'Car Insurance Broker'… 485 million.
Yikes. Maybe 'Car Insurance Broker near me'… 544 million around where I live, and most of the results are insurance companies and aggregators.
To add fuel to the fire, the top results (and all that fit on my screen without scrolling down) were paid ads.
How can a local insurance Broker compete without spending a fortune?
What are SEO and SEM?
Let's step back and determine what generates the results you see on Google (or any other Search Engine such as Yahoo, Bing, etc.).
SEO, or Search Engine Optimization, is how search engines find you organically. Search results are driven by the content on your website in relation to the search criteria entered. SEO is the long game and takes time to develop.
SEM, or Search Engine Marketing, is paying to have your website appear as a search result. This is more of a short-term tactic (although can also be a strategic part of your long-term marketing mix), and it can be very expensive – particularly when it comes to terms such as 'insurance' and related topics.
Playing the SEO game
I recently spoke to Gary Jury, Manager of Digital Marketing at CAA Club Group, about how Brokers can compete in the very crowded online world of insurance. "In order for Google to find you, you need to optimize your website by structuring the information on your page describing exactly what you do. Google crawls every website in the world looking for relevancy depending on the search terms that were entered," Gary explains.
"What makes SEO tricky is you have to earn that relevancy. If you have a headline on your website that triggers a search result, but at the other end of the click, there's no information related to the headline, this creates irrelevancy and Google will notice that the search visitor left your website immediately (known as a 'bounce' from your website). If you have a high bounce rate, you will be penalized, and it will be harder to rank. Bottom line is that you need to create a congruent experience from search, to click, to what's on your website."
Creating credible relevancy
It's not always easy. Saying you sell 'car insurance' may make you relevant to the 'car insurance' search, but you may be buried on page 57 of Google's search results (and hardly anyone goes past page 1). But if you approach your content holistically, ensuring information relevant to the search is contained throughout your website, your chances of ranking for those terms improve.
"If I were looking for 'red running shoes' and used this as my search, I would hope to only see results about red running shoes," muses Gary. "To accomplish this, a good website will have a page that is all about red running shoes, with a URL that says red running shoes, headings (H1 & H2 tags) structured with red running shoes, and FAQs and blog articles that tell me everything I need to know about red running shoes. Having this congruency throughout your content creates the experience a user is looking for from their initial search, to the click on the Google search result, to when they land on your website."
Another critical thing to consider is the long-tail search, which is important because today almost half of searches are done by voice. Naturally, people will include more details when they do a voice search than what they would type. For example, Gary may say: 'Hey Siri, where can I find high-top red running shoes near me?' Having this exact question in your website's FAQs means a greater possibility of a search result.
"In my search example of 'red running shoes', Google may return a variety of results – some about shoes, some about running shoes, some about caring for running shoes, etc." continues Gary. "But with the voice search example, Google's algorithms switch gear because it's clear the person is in purchase mode. In this case, the search result will contain nearby retailers who sell red running shoes, determined by your device's IP address… and that's where 'Google My Business' (soon to be known as Google Business Profile) comes in."
Your business on the world wide web
On page 1 of Google, the top portion is usually paid ads. But if Google's AI thinks you're looking for a service or are at the purchase stage, a list (and often a map) of business matches will appear right underneath the ads. "I think 'Google My Business' is where Brokers can make their mark on page 1 most easily," Gary suggests. "If someone enters 'auto insurance broker', Google assumes that they are looking for an auto insurance broker nearby and uses the device IP address to list local insurance brokers and agents, and if a broker is close by – voila – a better chance of earning a page 1 result."
Gary does suggest ensuring that everywhere your business details appear, they should appear identically. That is your brokerage name, address, phone number, fax number, website, etc., across all business listings including:
Your website
Yellowpages.ca
Google
Yelp
… literally anywhere someone may look for you – directories, review sites, recommendation platforms, etc.
So, if your website lists your address as '123 Main Street, Suite 10', but your address elsewhere shows as '123 Main St. #10', Google will not be certain it's the same business. "You don't want Google's algorithms to work too hard, because this can impact where (or if) you show up in its business listings," warns Gary.
Is it worth investing in SEM for a Broker?
As noted at the start of this article – SEM can be expensive, particularly around the topic of insurance. But if you have money in your media budget available for SEM, Gary suggests being very specific by using localized keywords: "In Toronto, there are a number of pockets or neighbourhoods, such as 'The Beach', 'Willowdale' and 'Leslieville'. Rather than investing in keyword search terms like 'auto insurance Toronto', go with 'auto insurance Willowdale'. In Toronto, there are hundreds of insurance brokers, but in Willowdale, there will be less competition." Consider this tactic with your SEO efforts, too.
Yes, you can rank on page 1
Bottom line is to remember that the more times your link is clicked, the more times it will be shown; leading to a higher probability of being clicked again. The action of the 'click' helps you build credibility and authority with Google for that search term, which will improve your ranking. Whether you rely on SEO or decide to invest in SEM as well, make sure the user experience is congruent. It will take time to get it right, but the more you work on your content and business listings, the closer you will get to that coveted page 1.

Gary Jury has been with the CAA Club Group Marketing team for eight years, with recent roles as Manager, Digital Intelligence and Manager, Digital Marketing. He has over 30 years experience in Sales & Marketing, including 10 years in Search Marketing, both SEO and SEM.
Related articles
Today's relevance of a digital strategy



There's a growing library of marketing articles just for Brokers, from CAA Insurance.
Follow us on Twitter and LinkedIn so you don't miss any great upcoming topics.