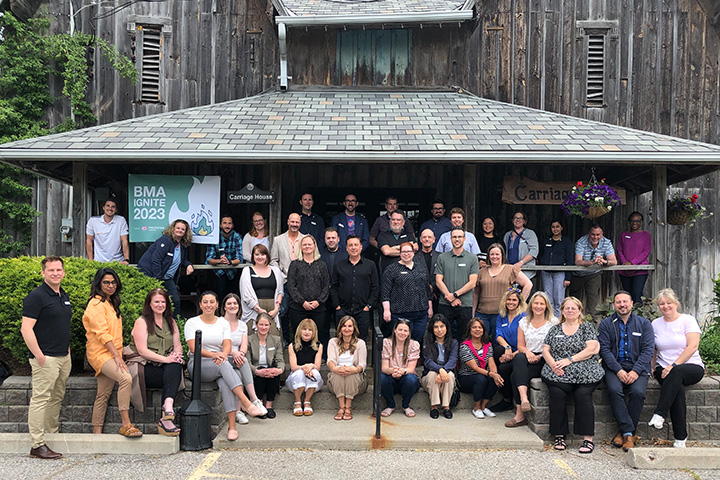 BMA Ignite 2023 - A Great Success Story
The Broker Marketing Academy, powered by CAA Insurance, welcomed 20 brokers to our BMA Ignite 2023 live learning experience, from June 5 to 9, at the enchanting Elm Hurst Inn & Spa in the heart of Ontario's Oxford County.
The Broker Marketing Academy, or 'BMA' was born and launched in 2019, based on feedback we'd received from brokers that there were limited opportunities available to grow their marketing expertise. The biggest professional development gap in the industry seemed to be education around the business of marketing itself.
For five days, our broker partners attended BMA Ignite 2023 and participated in a series of interactive activities, including in-class learning, out-of-class exploration, and team project work which culminated in group presentations of campaign execution plans for fictitious brokerages. There were amazing insights shared, group activities, interactive games, and a Farmer's Market-themed setting that showcased various marketing tactics.
"Marketing is an integral part of every business, which is why CAA Insurance leveraged internal and industry experts to create an immersive experience for brokers at BMA Ignite 2023," notes Pierre Bourdeau, Director P&C Insurance Marketing. "We wanted to create a fun and productive learning environment that would allow participants to enjoy the educational process while creating lasting connections with fellow brokers. What we witnessed exceeded our expectations; it was great to see how engaged each participant was with the curriculum!"
The learning was interlaced with engaging evening activities, including a British Invasion pub night, a Murder Mystery dinner whose setting was the Roaring 20's, and an elegant final dinner celebration that was serenaded by beautiful live jazz music. The event was capped off with a Graduation Ceremony where the participants' great achievements were celebrated. "From the Welcome Reception through to the closing remarks, we witnessed a group of brokers come together with shared aspirations, and leave with valuable marketing knowledge and insights," remarked Catherine Bojda, Manager, B2B Marketing, and member of the BMA organizational team. "We witnessed hugs and laughter, and relationships formed that will last way beyond BMA Ignite."
With 2023's event behind us, we are filled with reflection, while evaluating the program to evolve the curriculum where needed. But mostly we are still smiling from the success of a great week. "When I think about BMA Ignite, all I can do is smile," reflects Mike Leon, President of Brand Heroes, and one of the lead facilitators at the event. "Not because it was a great event, which it was. Not because all attendees took a lot away from it, which they did for sure. The smile's here to stay because BMA Ignite shows the true magic that happens when learning is powered by creativity, passion, and kindness. I can't wait to see what these brokers do with everything they learned."
The Broker Marketing Academy strives to meet the expectation already established by CAA Insurance when it comes to strengthening broker relationships. We not only hope to help our partners with their marketing efforts but also demonstrate our promise to holistically support them and their businesses. "BMA Ignite underpins our commitment to strong broker partnerships," says Kathy Corbacio, AVP Business Development. "The event gave us the chance to make every participant feel welcomed and special, which set them up for better success during their learning experience."