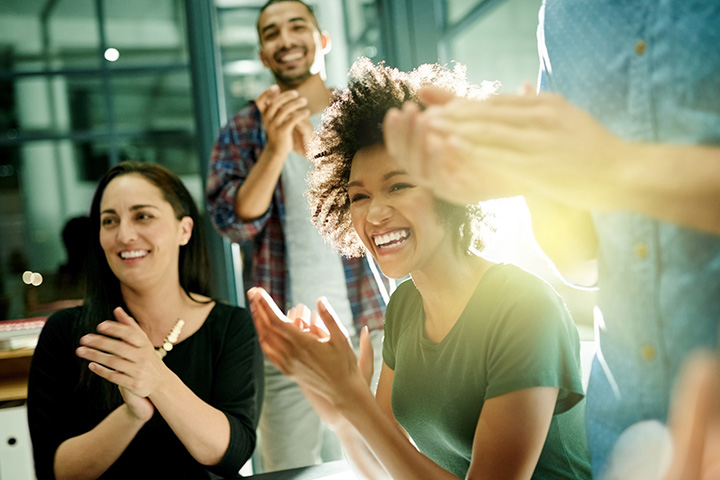 Reinventing Events
The air is getting crisper and the season is beginning to show off its glorious colours. For most people, these are the signs of Autumn. But for the insurance industry it only means one thing – Convention Season.
This year we are seeing a return to normal with the upcoming conventions and events running across the country. After two years of attending events virtually, we're back in-person. Some are excited, some have trepidations, others are downright terrified. The pandemic has changed how some feel about being in a crowded space, and if you're planning an event, it's important to have the feelings and safety of your guests top of mind.
I recently spoke with Taz Ratanshi, Supervisor of Brand Partnerships and Events for CAA Club Group, to gain her insight on how events may need to be 'reinvented'. "There are two kinds of events," Taz notes. "There are 'owned' events, which are those that you are hosting. Then there are events you're taking part in. Whatever your level of participation, it's important to take ownership of keeping participants safe and being empathetic to those whose comfort level may not be quite back to pre-pandemic levels."
First and foremost, adherence to local government mandates should be followed. Today, most pandemic-restrictions have been lifted, but check local authority websites in advance of your event to be certain.
Next is taking the steps to ensure your guests feel safe, so they can enjoy themselves. And while you can hope to see 100% attendance, expect that some may choose not to participate. "If someone doesn't feel comfortable being in crowded spaces, they simply won't attend. Others may cancel if they're feeling unwell," notes Taz. "Those who decide to attend should know what to expect."
Tips for a successful and safe event
Whether hosting a small dinner party, a golf tournament, or a larger conference, there are a few steps you can take to ensure everyone feels safe and can enjoy themselves.
Open communication. Be transparent in communications leading up to the event. If you have a dedicated event website or landing page, include FAQs explaining what people can expect in terms of the number of invited guests and the steps you are taking to ensure their safety. The days of sanitizing every surface after it's touched have mostly passed but having hand sanitizer stations and keeping things clean as much as possible will help to make people feel at ease. Also, ensure your guests know that should they choose to wear a face mask, that it will be accepted and respected.
Understand your venue's stance. Some venues may still require masking or proof of vaccine. If this is the case, what could this mean to your invited guests (and will it deter them from attending). Also review your contracts carefully for any COVID-19 related clauses – and when you may be on the hook for additional costs. Finally, if for any reason we are locked down again and events can't take place, ensure your contract includes details around refunds and/or credits for future use.
Consider colour-coded wristbands or lanyards. To make it easy for all attendees to understand each others' comfort levels, consider offering a colour-coded wearable, which would indicate:

Green means contact is acceptable (handshakes, hugs, etc.)
Yellow means an elbow or fist bump is okay
Red indicates a preference to maintain physical distance

Have a back-up plan. If you have lined up speakers, facilitators, or entertainment, have a contingency plan ready, in case they fall ill and must cancel.
Count on no-shows. Prior to the pandemic, event planners would usually bank on 10% of their invited guests not showing up. Account for more than this today. In the past people would still attend events with a sniffle – something that has become socially unacceptable these days.
Consider virtual options. People have become very accustomed to virtual events, and in some cases, they may prefer this medium. If possible, try to arrange for filming and live stream of your keynote speakers, etc. "We've learned a lot from the past two years," notes Taz. "People may have an expectation that content will be available digitally, either during or after the event. Including a virtual component means you'll reach a broader audience."
Planning a large event has always encompassed a long 'to-do' list with many considerations and today, this list may seem a little longer. But taking the time to ensure every participant feels safe and comfortable means worries will be left at the door, and you can focus on running a successful event.
"The good news is that we've all been on this ride together over the past 2+ years," concludes Taz. "People are excited to see people again and come together at events. Putting in the effort to make yours a safe one will make it even more memorable."