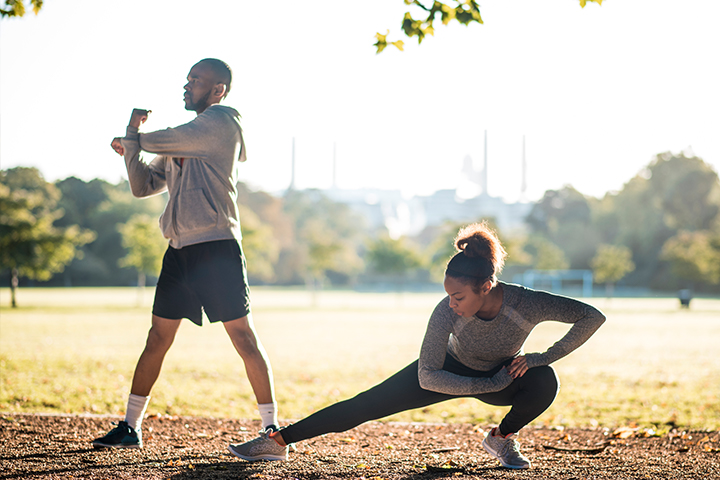 Start your journey to health and wellness today
It's official… one year of pandemic. One year of lives changed. One year of longing for normal days of being with family and friends.
This year has tested everyone's resilience. We've had to learn how to work differently, parent differently and socialize differently (what would we do without Zoom?). And with the closures and restrictions of gyms and other recreational facilities, we've had to find new and different ways to be physically active. For many, it's been easier to revert to Netflix and ice cream to pass the time.
CAA Insurance is part of an organization that has always placed priority on the wellness of its associates. We invest in providing employees with tips and tools to help them stay healthy, engaged and productive, through a dedicated Health & Wellness team. Everything from exercise ideas, to healthy eating, to stress management solutions, CAA Associates have been able to learn and thrive, even over the past year.
We know many peoples' energies have shifted from maintaining a healthy lifestyle to other priorities. We get that, and we want to offer our help to you, our Broker partners.
Since last Fall, we have been working in collaboration with our Certified Fitness and Registered Health Coach, Joanna Marra, to provide you with guides full of tips and tricks on health and wellness, which you and your fellow Brokers can use to help reinvest in yourselves. Sometimes movement and exercise may seem daunting, but there are small steps you can take in the right direction that will set you up for a successful health and wellness journey. Whether at home or in the office, start with something small like a stretch break or short walk, and then build from there. It doesn't have to be time consuming and every little bit matters! To help, we have offered you resources which include exercise routines, information on nutrition, ergonomic recommendations, and much, much more.
If you haven't had the chance to review all of the resources available, visit our Broker Portal and check out the "Health and Wellness" folder. You can even have a little fun by challenging yourself and your fellow Brokers to complete our Wellness Bingo Cards.
Now that Spring has sprung, the doors of opportunity for physical wellness have opened wider. Get outside, soak up that vitamin D, and try some of these fun activities:
Put a reminder on your phone or in your calendar to get up every hour and move. Whether it's a stretch break, a meditation or a quick walk around the block, moving frequently is more important than the actual duration of the walk or movement.
Challenge yourself to try something new – take up walking, gardening, tennis, golfing or another outdoor activity.
Spend some time in your yard cleaning up your garden, planting new seeds or perennials, and enjoy watching new growth and life sprout. Get the kids involved – they may enjoy getting dirty!
Take a bike ride.
Go for a hike.
Fly a kite. Here's a video on how to make your own: Homemade Kite.
Remember to drink plenty of water throughout the day.
As partners, we want to help you be the best version of yourselves. We want to keep you well and healthy. It's what we stand for as an organization, and we are committed to continuing to provide you with resources to support your health and wellness journey.
If you are interested in arranging for a live stretch and meditation session for your brokerage, please speak to your Business Development Manager. And stay tuned for future wellness initiatives, including more tips, tricks and resources.