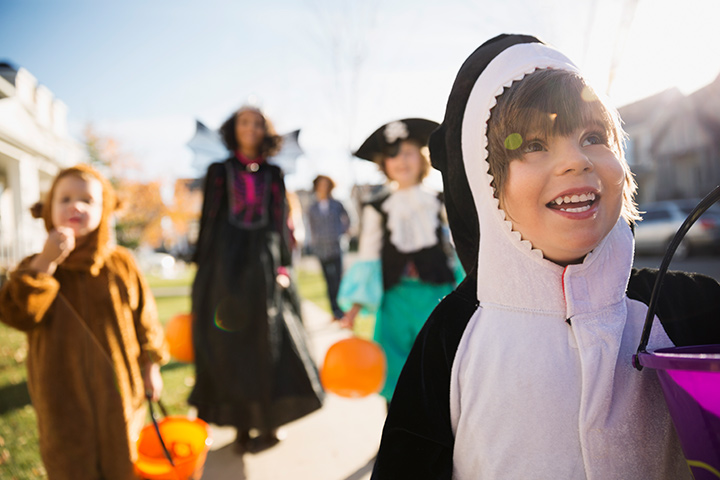 Keeping Your Ghosts and Goblins Safe This Halloween
Witches flying on their broomsticks, ghosts haunting our streets, superheroes battling to get to the next house quickly. They all have one thing in mind… candy! And while it's an exciting night for our little goblins, it can also be the spookiest night of the year because of the added and hidden dangers.
Here are some simple tips to help keep everyone safe this Halloween.
Children
Make sure costumes are light in colour and adorned with reflective tape.
Masks may be ghoulish, but it can be difficult to see through small eye-holes. Opt to use face paint instead.
Avoid flowing costumes, such as capes, that can be easily tripped over.
Try to dress in costumes made with non-flammable fabric, as acrylics, polyester and plastic can flare up with little warning.
Parents
Remind your children about road safety and that they should never dart across the street to get to the next house. Plan your trick or treating route to proceed down one side of the street, and then cross at a light or cross walk to tackle the other side of the street. And to always walk on the sidewalk.
Arm your kids with a flashlight or glow stick necklaces, so that they are more visible.
Ensure your children know not to eat any candy until you have had the chance to examine it.
If your child is old enough to head out on their own, make sure they are going with a group.
Remind your kids to only accept candy at a door of a well-lit house, and to never enter a home or vehicle. Avoid homes that do not have their porch light on.
Candy Givers
Make sure your walk way is clear of leaves and debris. If you are adorning your home with decorations, ensure nothing obstructs the path to your front door.
Consider using flashlights or LED tea lights to bring your pumpkins to life, rather than dangerous candle flames.
Many kids have intolerances and allergies these days. Consider having a selection of candy available, including nut/dairy/gluten-free options.
Drivers
One simple rule… watch the road, especially in residential areas. Kids are excited and could run out onto the street unexpectedly. Keep an eye out when you pass parked cars, as there may be a little goblin lurking who is about to dart out onto the road.
If we all take these simple steps to ensure our little ones stay safe, this Halloween is sure to be a Spooktacular evening.