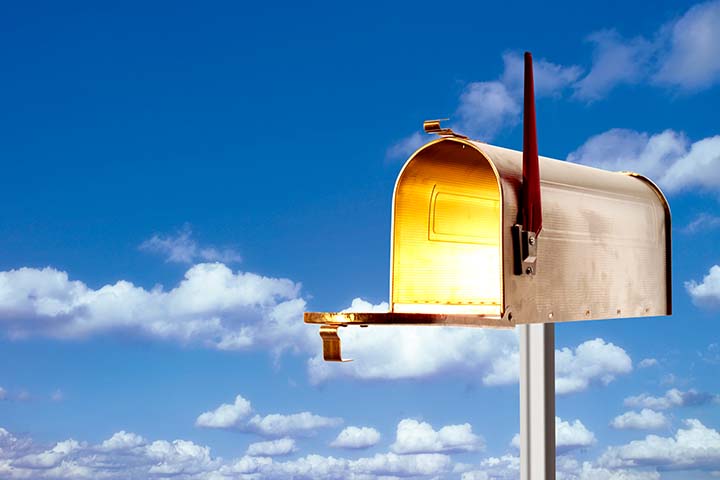 Direct mail marketing - is it dead?
"The physical qualities of Direct Mail add dimension to your marketing mix. It's less fleeting than almost every other option; giving your audience something to hang on to for further evaluation and consideration. Even powerhouses in the digital realm, like Google, employ Direct Mail to inform and engage." – Dan Schottlander - President, directworx
Should direct mail be part of your marketing plan?
Short answer: yes.
Slightly longer answer: yes, if you do it right.
Direct mail has always been a big part of traditional marketing. Mailings, post cards, brochures etc. have been used to market products and services since the printer was invented.
And it still thrives today, if in a somewhat modified form. Most direct mail pieces now work to support online marketing efforts. It can lift your brand visibility and drive new consumers to your website or campaign landing page.
Here's a few reasons why a strong piece of your multi-channel marketing strategy can be direct mail:
Local or targeted audience. You can choose your audience based on geography or demographics. The more targeted your audience, the more precise your offer or message can be. You can also personalize direct mail messaging and offers.
Cuts through online clutter. Open any webpage and you will likely see several ads in rotation across the site. Direct mail lands in the consumer's home and usually stays in sight for a period of time.
Reaches consumers that might not be online all the time or at all. Not everyone lives online (hard to believe, I know) so direct mail can extend your reach to consumers. It can also aid in brand recognition or recall. A Canada Post white paper cites that 74% of consumers always or sometimes notice advertising received via direct mail. And 66% will remember the brand of a direct mail piece, outperforming all the digital advertisements tested.
Can provide more detailed information. There is real luxury of space on any direct mail piece. You can expand your messaging to include more information than digital ads. You can also add in QR codes (more on these later) to increase online interaction.
Here are some basic tips and recommendations for a strong direct mail campaign, which can be run stand-alone or as part of your larger multi-channel strategy.
Get to the 'who' first
When you start your campaign planning, decide who you're trying to reach first and foremost. That will help you structure your offer or message and personalize the campaign.
Dan Schottlander of Directworx Agency also points to the innovative options offered by Canada Post to help you target your direct mail campaign: "Canada Post's Smartmail Marketing provides you with a more targeted approach to your direct mail campaigns," he says. "It provides access to opportunities such as Personalized Mail, Postal Code targeting to reach people in areas that fit your audience profile, or even going deeper and more refined with Neighbourhood Mail."
Execution is everything:
Where to spend the money
Put simply, spend money on the creative execution of your direct mail pieces. A well-designed and eye-catching direct mail piece will invite consumers to see, open or read your message. Canada Post cites that 85% of people will open or read direct mail if it looks interesting.
Your design should include a compelling offer or messaging. If you can grab consumers' attention quickly with something they want, your direct mail is more likely to produce the results you want.
QR codes
When QR codes were introduced, it seemed like an amazing tool to drive consumers to take action through their phones. But accessing QR codes proved to be difficult, and they didn't always produce results, so marketers moved away from using them.
The pandemic has resulted in a resurgence of the use of QR codes. Now, more people know how to use them and their value as a marketing tool has gone up again.
If you are going to use a QR code in your campaign, make sure it gets your audience to the actual information they seek. Sending them to your home page or any other page that doesn't reflect what caught their attention on the direct mail piece can negate all your marketing efforts. QR codes are already asking consumers to perform a task to get information, so don't ask them to do more once they've clicked through.
Neighbourhood Mail vs. Personalized Mail
Neighbourhood Mail is direct mail pieces that are not addressed to the homeowner, whereas Personalized Mail will have the house address and/or the name of the homeowner. However, addressed mail may optionally have 'homeowner or occupant' instead of an actual name – it all depends on the data you have available at your fingertips.
Neighbourhood Mail is better if your campaign is broad-based – think of it as a paper version of cold-calling. Personalized Mail is better if you have a personalized offer for a specific target group or demographic. Consumers are more likely to open or view a mail piece that is addressed to them directly.
Cost is a factor as well: Neighbourhood Mail is significantly less expensive than Personalized Mail.
Luckily, Canada Post offers excellent service and support for small businesses and can help you choose the right type of mailer for your campaigns. Check out what they have to offer.
Direct mail is a fast, easy way to reach consumers. It is a great tool to support your digital marketing efforts and it can provide access to markets you might otherwise not be able to reach with online advertising. It's definitely not dead and is a powerful tool to use as part of your next multichannel campaign.
Dan Schottlander provided quotes, direction and assistance with this article. Dan is the president of directworx, a full-service print and mail solutions provider. Dan and his team have been helping small and medium sized businesses across Canada and the US with their printing and direct mail campaigns for over 22 years. As a professional direct mail company, directworx is a trusted Canada Post Expert Partner.
Related Articles:
Traditional marketing - Part one: Adapting to a changing world
Traditional marketing - Part two: Integration with determination
Personalization plus print proves powerful



There's a growing library of marketing articles just for Brokers, from CAA Insurance.
Follow us on Twitter and LinkedIn so you don't miss any great upcoming topics.