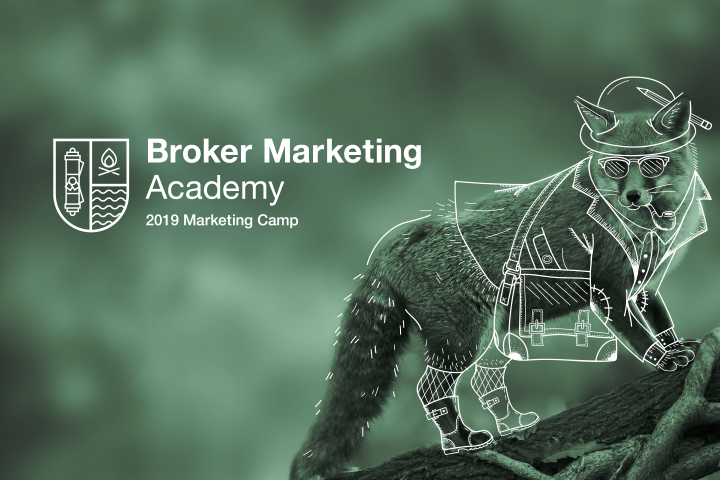 Bring Your Marketing to Life: 2019 Marketing Camp
How many times have you seen this headline: If you're not using this marketing trick, you're missing out!
Marketing is ever-changing. It's a full-time job to plan your marketing, learn new tools, complete a campaign, then measure and learn from it too.
Add changing social media and search algorithms, and it becomes even more complicated and time-consuming.
Brokers see plenty of product and sales training opportunities. But you're telling us there's a shortage of marketing courses geared to your business.
So we've created the Broker Marketing Academy.
Fast Track Your Marketing Skills Growth – 2019 Marketing Camp
If you went to camp as a kid, you remember every year you learned awesome new life skills.
Maybe it was paddling a canoe, building a campfire, and how to avoid the pitfalls – like poison ivy.
We've gathered marketing experts to do the same with your marketing skills.
We'll make it fun, enjoy the outdoors and build your confidence. You'll go back to the office energized and excited to apply your practical learnings to your marketing plan.
You'll learn the principles, then apply them to a case study while creating a marketing plan framework.
You'll leave camp with:
A better understanding of how to bring your branding and value proposition to life for your customers every time.
The know-how to blend new marketing channels into your plan.
A set of practical marketing tools that's as versatile as a Swiss Army Knife.
Familiarity with SEO, SEM, marketing automation.
Connections with experts for follow-up and support.
The confidence to make the right decisions quickly.
Measurement skills to see if your plan is working.
Best of all… you'll have the basis for a versatile, integrated marketing plan tied to your business goals.
Who's Your Team's Happy Marketing Camper?
The camp is for whoever is responsible for marketing at your brokerage, whether a novice or a seasoned pro.
That might be:
Brokers/Principals
Seasoned Marketers or new to the marketing role
Office Managers
It's ideal for anyone who wants to invest in new and innovative marketing to meet your business goals.
CAA Insurance covers the cost of training, food and accommodation. All you have to pay for is your transportation, transfers and incidentals to camp.
We're Calling it Marketing Camp (But You Won't Be Roughing It)
No tents here! We'll be camping in style at Deerhurst Resort, in the heart of Ontario's cottage country.
And we're taking the "camp" name seriously.
That means less traditional classroom learning, more interactive learning, time with peers, and enjoying the great outdoors as a backdrop for collaborating while we learn.
Send Your Marketing Skills to Camp – Applications open May 21
We'll be accepting applications for 2019 Marketing Camp, beginning May 21. In the meantime, learn more about these four days building the knowledge, skills and strategies that will bring your marketing to life.
Learn more at caabrokermarketingacademy.ca.